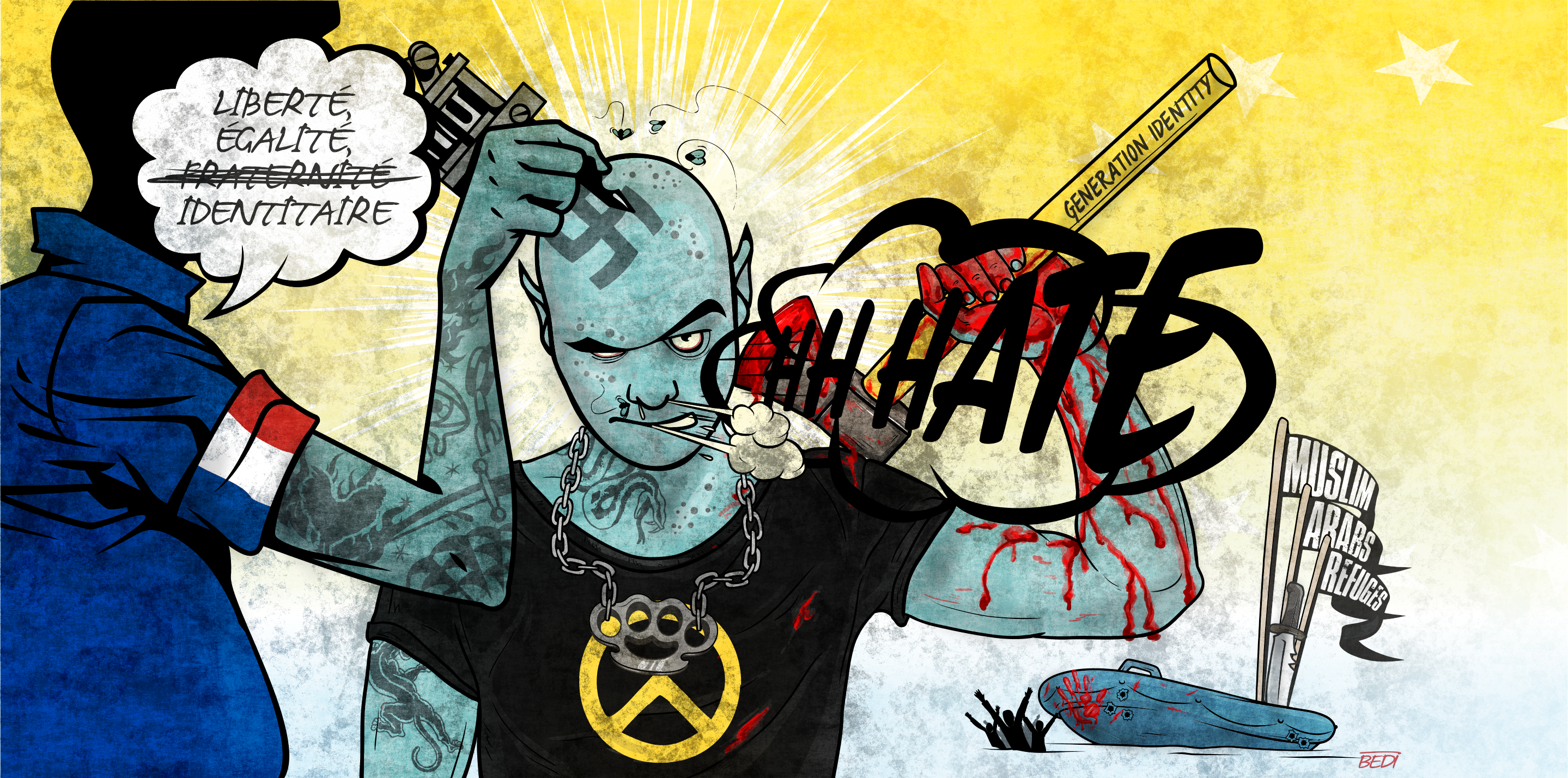 Long Read
Generation Hate: French far right's violence and racism exposed
Al Jazeera investigation reveals Generation Identity members carrying out racist attacks, making Nazi salutes in Lille.
10 Dec 2018 | 16 min read
---
It was the first weekend of 2018 and Remi Falize was hungry for a fight.
The 30-year-old far-right Generation Identity activist, who previously said his dying wish was to kill Muslims in the northern city of Lille, took out a pair of black plastic-reinforced leather gloves.
"Here, my punching gloves, just in case," he told his friends in a secretly filmed conversation. "We are not here to get f**ked about. We are in France, for f**k's sake."
Falize found his fight towards the end of the night.
Around 1am, outside the O'Corner Pub in Lille's main nightlife strip, a group of teenagers approached Falize and his friends. One asked for a cigarette. Suddenly, Falize's friend pushed him and the doorman at the bar was pepper-spraying the teenagers.
"I swear to Mecca, don't hit me," one girl in the group pleaded.
Falize was incensed. "What to Mecca? I f**k Mecca!"
The burly man went after her even as she turned to leave and punched her in the head several times.
"Girl, or no girl, I couldn't give a f**k. They're just Arabs," he said. Then, taking a drag on his cigarette, he shook his wrist and said: "She really must have felt it because I'm hurting."
Falize and his friends are part of Generation Identity (GI), one of Europe's fastest growing and most prominent far-right movements. The organisation was set up in France six years ago, and now has branches in several countries, including Italy, Austria, Germany and the United Kingdom.
The pan-European group, estimated to have thousands of members and an online following of tens of thousands, advocates the defence of what it sees as the identity and culture of white Europeans from what it calls the "great replacement" by immigration and "Islamisation".
It presents itself as a patriotic movement and claims to be non-violent and non-racist.
But when an Al Jazeera undercover reporter infiltrated GI's branch in Lille, he found the opposite.
Generation Identity
Footage our reporter filmed secretly over a period of six months, beginning in September 2017, shows GI members carrying out racist attacks and admitting to a series of other assaults on Muslims.
The group's activists were frequently seen making Nazi salutes and shouting "Heil Hitler". Its leaders meanwhile explained how they've infiltrated the National Front (now the National Rally), a far-right French party led by Marine Le Pen, who lost a 2017 presidential election runoff to Emmanuel Macron.
Made up of white nationalists, the group first came to prominence in 2012 when dozens of its activists occupied a mosque in Poitiers, western France, for more than six hours before police ejected them. Days later, GI issued a "declaration of war" on multiculturalism and called for a national referendum on Muslim immigration.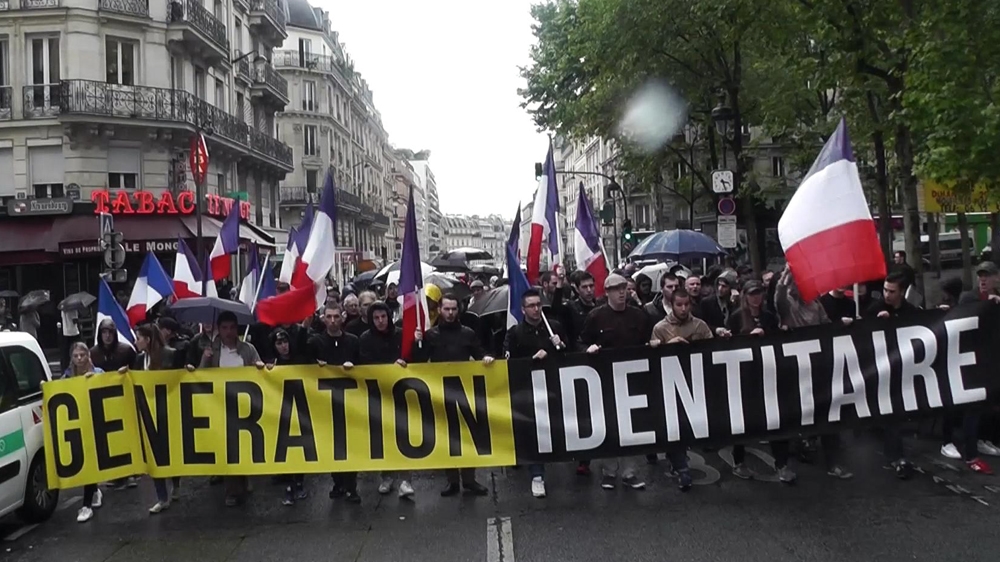 Robin D'Angelo, a French political analyst, said the group considers France their "main battleground" in Europe, as it's the country with thelargest Muslim community on the continent. Muslims make up nearly 10 percent of France's 67 million population. A second and more significant factor, D'Angelo said, was a rise in deadly attacks by Muslim assailants in the country in recent years.
They include a 2015 gun attack on the offices of the satirical magazine Charlie Hebdo in the French capital, which left a dozen people dead, as well as a series of coordinated assaults later that year in Paris, including at the Bataclan theatre, in which more than 130 people were killed. The next year, assailants drove a 19-tonne cargo truck into crowds of people celebrating Bastille Day in the Mediterranean city of Nice, killing 86 people.
GI, however, differs from traditional far-right groups, D'Angelo said, in its public attempts to distance itself from violence and overt racism. "What they understood was that marginalisation would never bring their ideas to power, would never make their ideas spread, so they try to be as clean as possible," D'Angelo said.
The group's strategy to influence public debate includes staging spectacular publicity stunts to attract media attention and gain a huge social media following, he said.
Such moves include a 2017 boatmission called "Defend Europe" which sought to disrupt refugee rescue ships in the Mediterranean Sea. GI raised more than 50,000 euros ($57,000)in less than three weeks for the mission, which ultimately failed when the group's boat was blocked from refuelling in Greece and Tunisia.
In April, more than 100 GI activists tried to shut off a snowy mountain pass on the French-Italian border used by migrants. After erecting a makeshift barrier there, they unfurled a banner which read: "You will not make Europe your home. No way. Back to your homeland."
'We want power'
Aurelien Verhassel was one of the GI leaders who took part in the group's Alpine mission. He is also the head of the group's Flanders branch. In a backstreet in Lille's city centre, the 34-year-old runs a members-only bar called the Citadelle.
"It's not just a bar," he told Al Jazeera's undercover reporter. "It's a community with all the activities that go with it; a boxing club, a library, a cinema club."
Membership in GI Flanders had almost tripled, he said, from 300 to 800 in just a year.
At the Citadelle, Verhassel, a man with an angular face and slicked-back hair, hosted lengthy discussions on politics, entertaining GI members from other parts of France and sometimes journalists, too. One Friday in December last year, Verhassel asked members to be present for a TVinterview with journalists from Quebec, Canada.
In his television appearance, Verhassel, who has a string of criminal convictions for violence, including a five-month prison sentence for an attack on two North African teenagers that he is appealing, presented the image of a committed but professional politician.
"Europe has been invaded," he told the Canadian journalists. And the aim of GI, "a serious political movement that trains young leaders", was to tackle mass Muslim immigration, he said.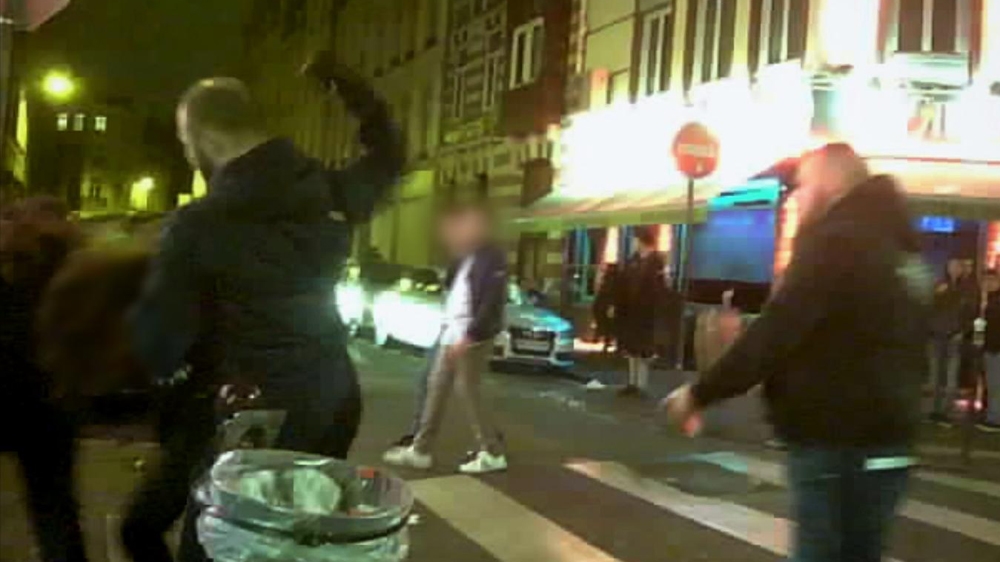 GI's main solution, he added, was a concept called "remigration" – a programme to send non-European families to their ancestral homelands. "For us, the non-Europeans, the Islamists, can go home by any means," he said. "By boat, by plane or by spaceship. They can go home however they want."
The "remigration concept" is at the core of GI's vision for France's future, and was detailed in a policy document the group released during the 2017 election campaign. Jean-David Cattin, a GI leader who was in charge of the group's communications when its activists targeted refugee rescue missions in the Mediterranean, told Citadelle members in October last year that France could force former colonies to take back migrants by making development aid conditional on the return of non-European residents and migrants.
"We are France, we have nuclear weapons. We give them hundreds of millions in development aid," he told a sceptical activist. "We'd say: 'Listen, we'd love to help you out financially, but you've got to take back your guys.'"
Mathias Destal, a journalist who has been investigating France's far right for years, called the "remigration" concept "delirious" and likened it to ethnic cleansing.
"It would mean deporting thousands and thousands of people to countries which are supposedly their countries of origin because their ancestors might have lived there or because the colour of their skin or their culture refers to countries which are not France … so, in fact, it would nearly be ethnic cleansing."
Verhassel believed that the strategy to take the concept mainstream was to protect the group's media image.
GI Lille has refused entry to "skinheads and all those anti-social types", he told our undercover reporter, and expelled others who might damage GI's reputation. The image he wanted to cultivate, Verhasselsaid, was "it's cool to be a fascist".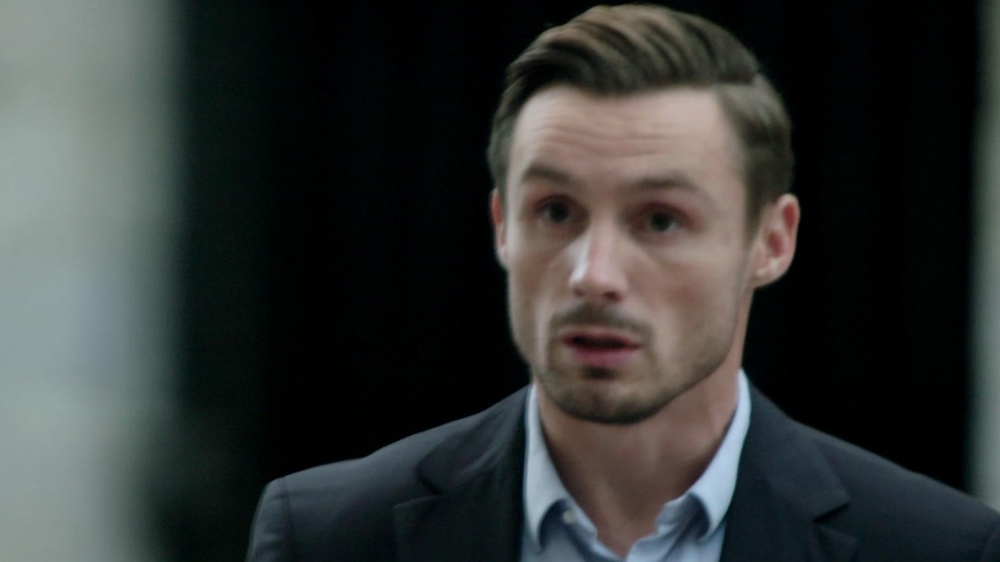 Verhassel was particularly worried about people who might post photos online of themselves doing Nazi salutes at the Citadelle. "We'd be shut down. We'd be done for," he said.
Over a beer at the Citadelle, Verhassel explained: "They want to make gestures. We want power … They just want romanticism. It's beautiful, it's sweet, but it doesn't do much to advance the cause. The goal is to win."
Racist attacks and Nazi salutes
Despite the public disavowal of violence and racism, Verhassel himself was secretly filmed encouraging activists to carry out assaults. "Someone needs a smack. But yeah, the advantage is that we're in a violent environment and everyone accepts that," he told fellow GI activists at the Citadelle in October last year.
Footage from the Citadelle and other parts of Lille also show activists frequently boasting about carrying out violent attacks and making Nazi salutes.
On the night of the attack on the teenagers, a far-right activist associated with GI, known as Le Roux, greeted Falize and his friends at a bar in central Lille that same night, saying: "Sieg Heil! Come on Generation Identity! F**king hell! Sieg Heil!"
Charles Tessier, another associate of Falize, described an attack on three Arab men in which Falize broke his opponent's nose.
"It started pissing blood," he said.
"Then we fight, three on three, and they ran off. We chase them shouting 'Dirty Arab! Sieg Heil!"
"We were Sieg-Heiling on the street."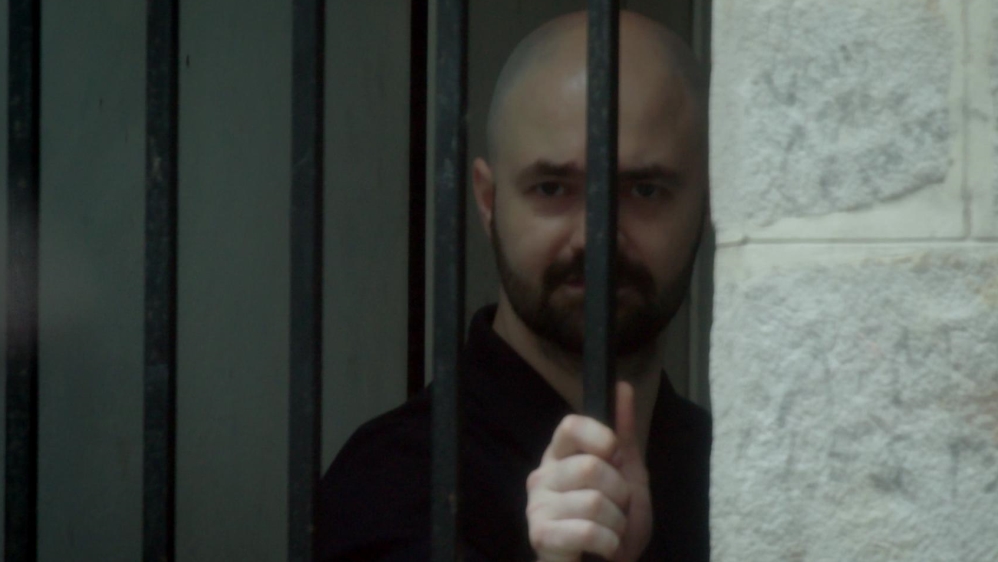 Such racist attacks, another activist called Will Ter Yssel said, brought GI activists together.
Falize, meanwhile, was caught on camera confessing that if he was diagnosed with a terminal illness, his wish would be to "sow carnage" against Muslims, perhaps by going on a shooting spree at a mosque in Lille, or even a car-ramming at the city's Wazemmes market, which is popular with Arabs and Muslims.
"If you take your car there on a Sunday, it'll be chaos," he said, laughing.
"As long as I don't die during the carnage, I'll do it again."
Responding to Al Jazeera's findings, a lawyer for Verhassel said the Citadelle welcomed people of "diverse persuasions" and does not represent GI.
The Citadelle "condemned in the strongest terms" the comments from its members if such statements were attributable to them, the lawyer added.
Sylvie Guillaume, vice president of the European Parliament, called the footage of the attacks and admissions of violence "disturbing".
Calling for legal action, she added: "They intend to get into fights, they say it, they're preparing themselves, they have gloves for hitting, they target their victims. These are people who make direct references to Hitler, who speak with phrases the Nazis used."
Guillaume continued: "That is punishable by law."