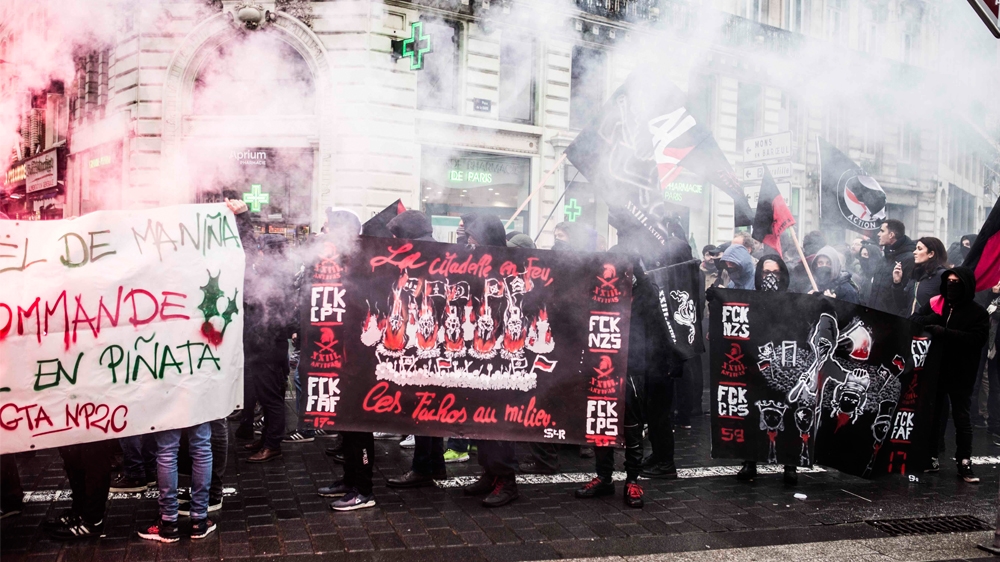 Exclusive
Protesters in France call for closure of Generation Identity bar
About 300 people demand closure of a bar frequented by far-right organisation following Al Jazeera's investigation.
24 Dec 2018
---
Lille, France – Protesters demonstrated in Lille, northern France calling for the closure of the local headquarters of Generation Identity, following revelations from Al Jazeera's Investigative Unit's documentary "Generation Hate".
Around 300 people gathered on Lille's Republic Square on Sunday demanding the closure of a bar called the Citadel, which had been infiltrated by an Al Jazeera undercover reporter over a period of six months beginning in September 2017.
The activists took to the streets behind a banner reading "Right into fifth gear into the Citadel" – a reference to comments filmed by the undercover journalist made by Generation Identity activist Remi Falize, describing his wish to commit an attack against a local market used by Muslims. The protesters were followed by several police vehicles and dozens of plain-clothes officers.
Generation Identity (GI) is one of Europe's fastest growing and most prominent far-right movements. The organisation was set up in France six years ago, and now has branches in several countries, including Italy, Austria, Germany and the United Kingdom.
The pan-European group, estimated to have thousands of members and an online following of tens of thousands, advocates the defence of what it sees as the identity and culture of white Europeans from what it calls the "great replacement" by immigration and "Islamisation".
It presents itself as a patriotic movement and claims to be non-violent and non-racist.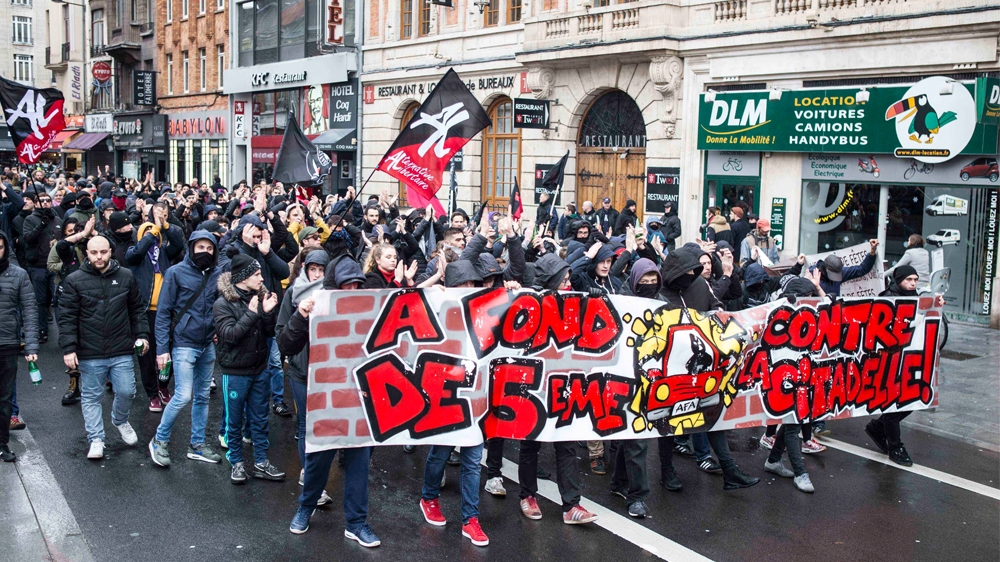 But when the Al Jazeera undercover reporter infiltrated the Citadel, he found the opposite.
Footage filmed covertly shows GI members carrying out racist attacks and admitting to a series of other assaults on Muslims, as well as making racist jokes and singing anti-Semitic songs.
On Sunday, the protest stopped in front of a bar where Falize was filmed punching a young Arab woman. A line of police officers stood outside the bar.
"We were aware of the violence and the racist attacks, but they were done on the quiet," said Philippe, a 52-year-old who attended the protest.
"The documentary has proved that this violence was taking place, and I hope people will open their eyes to what is happening in Lille."
Another demonstrator, 33-year-old Anais, who also asked not to print her family name, told Al Jazeera that since the Citadel opened in 2016, "people are at greater risk of being assaulted on the streets because of the colour of their skin".
Lille resident Joe Dadit has been campaigning since 2016 to make the authorities aware of the presence of the Citadel.
As soon as the GI bar opened, she launched a petition to protest against its presence in Lille.
"In the days afterwards, I had several meetings with [Lille Mayor] Martine Aubry, who told me that she could not do anything, since [the Citadelle] is a private space."
After Al Jazeera released Generation Hate, Mayor Aubry made a statement saying she was shocked by the documentary's findings and was looking for ways to shut the bar down.
At the request of both the mayor and the police commissioner, the public prosecutor has started a criminal investigation.
Joe Dabit described Al Jazeera's investigation as a "bombshell which has opened people's eyes".
Additional reporting by Lucas Chedeville in Lille.