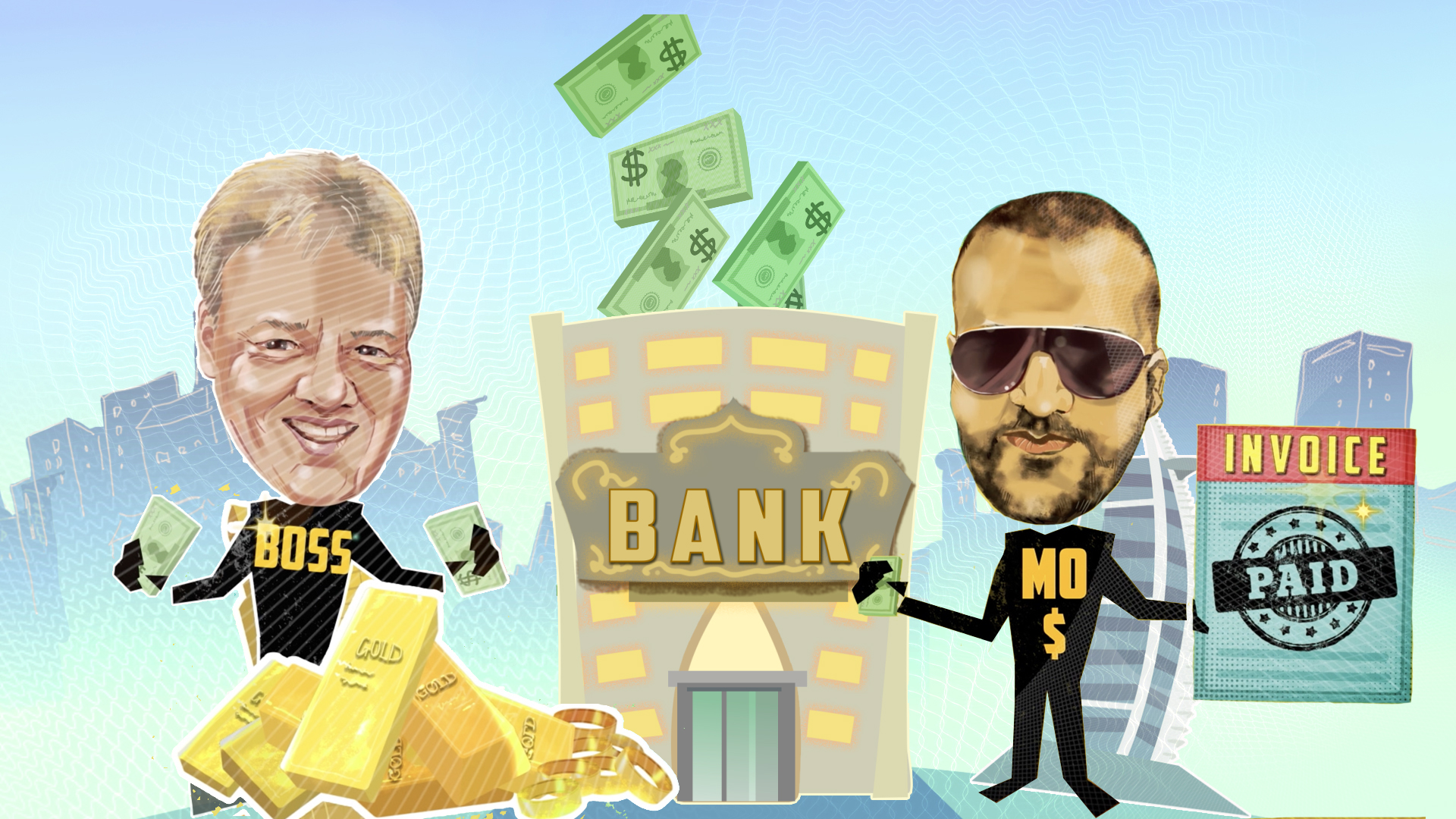 New
'Merchanting': The code word for the gold mafia's plunder
In Al Jazeera's investigative series Gold Mafia, merchanting is used to launder money. But what exactly is merchanting?
6 Apr 2023
---
"We do merchanting, that's it."
This is how Mohamed Khan, one of South Africa's biggest money launderers, described his approach to hiding vast amounts of illicit cash from authorities.
That code word for laundering sits well with the man known better by his street name, Mo Dollars. Over the last decade, Khan has built a legend as a go-to figure for people wanting to clean their dirty money in Southern Africa.
He helps some of the region's wealthiest people legitimise millions of dollars of unaccounted cash through a sophisticated web of front companies, bribes and fake invoices, thousands of documents and interviews with Khan's former colleagues, brother and ex-wife have revealed.
Mo Dollars is a central figure in Al Jazeera's four-part investigation, Gold Mafia, into gold-smuggling and money-laundering operations in Southern Africa. The investigation reveals how competing gangs have infiltrated state institutions, airlines and banks in Zimbabwe and South Africa to launder piles of money using gold.
"He's sort of held up as a sort of shadowy figure that controls money laundering in South Africa," money laundering investigator Paul Holden told Al Jazeera.
Among Mo Dollars's biggest clients is Simon Rudland, a Zimbabwean millionaire who owns one of the region's biggest tobacco companies, Gold Leaf Tobacco. South African revenue officials have accused Rudland of evading taxes by selling his cigarettes on the black market.
So, what exactly is "merchanting"? How do launderers like Mo Dollars, Rudland and their accomplices move dirty money across borders without being tracked?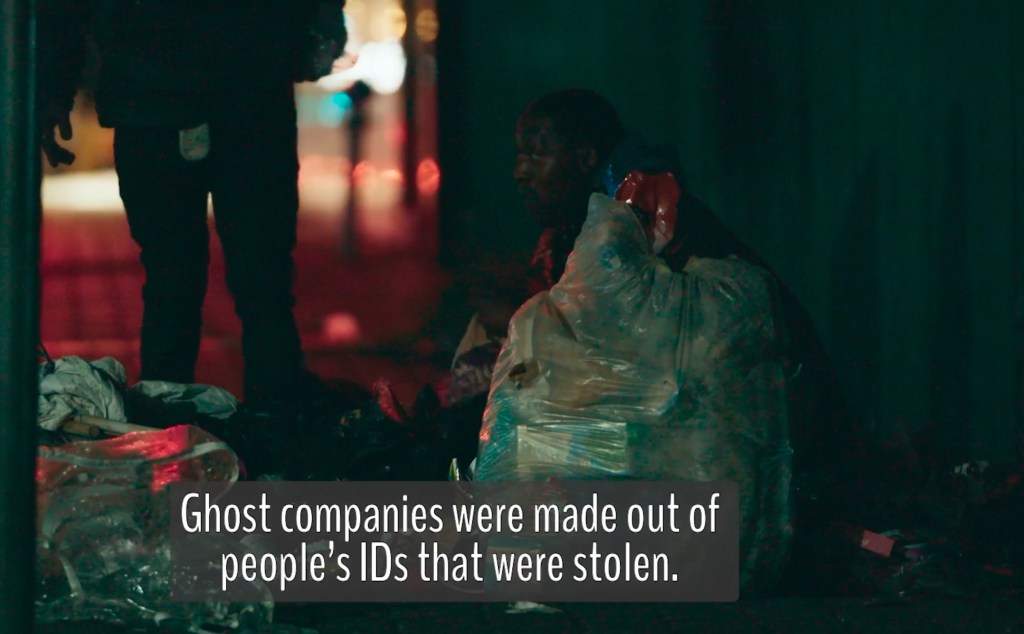 Stolen identities
A former employee of Mo Dollars, who we are calling Jimmy to protect his identity, told Al Jazeera that the team goes out at night, looks for poor and homeless people, and offers them up to 10,000 rand ($550) if they accompany Mo Dollars's employees to a bank and open accounts. Phones given to them are registered with the bank.
Then "the cell phone was taken away from them, the pin number was changed on the banking app", Jimmy recalled from his time with the group, explaining how Mo Dollars's team takes control of those bank accounts.
Dirty cash from Gold Leaf Tobacco and other clients is split into small, relatively unsuspicious amounts and deposited into these multiple accounts, which are in effect handled by financial service providers PKSA and SALT Asset Management, both owned by Mo Dollars.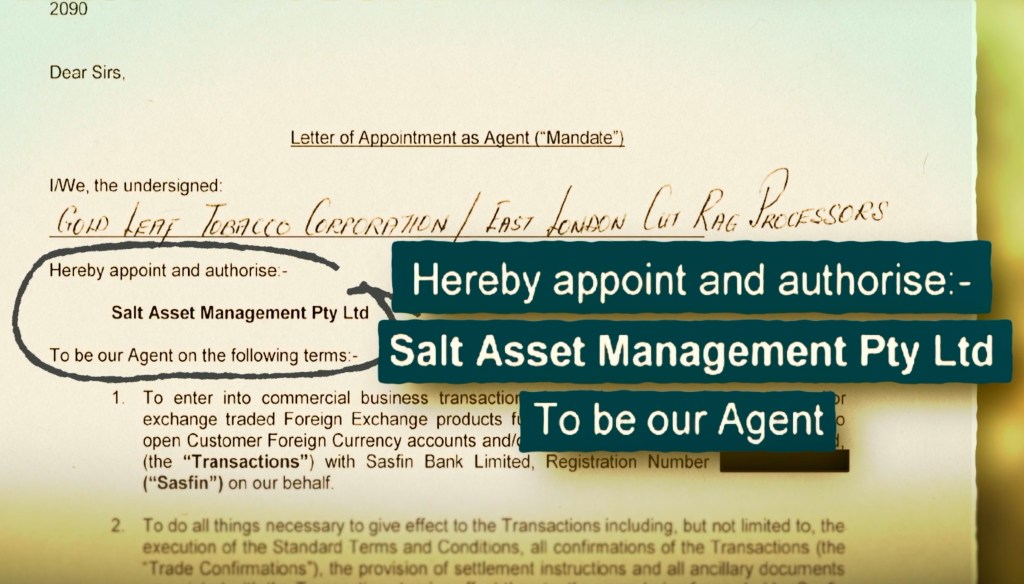 Front companies
In 2016, Mo Dollars signed Rudland's Gold Leaf Tobacco on as a client. That deal was "specifically for the intention of money laundering and nothing else", Dawood Khan, Mo Dollars's brother and former colleague, told Al Jazeera. Dawood has severed ties with his brother's business and is hiding in an undisclosed location.
Rudland authorised Mo Dollars to carry out foreign exchange transactions on Gold Leaf's behalf. The stage for "merchanting" was set.
Since then, Rudland and Mo Dollars have laundered hundreds of millions of dollars to bank accounts of a set of front companies spread across the world – Aulion in Dubai, Vantage Leaf in Mauritius, Velmont Valley in Switzerland and Liberty Gold in the United States. These companies are controlled by Rudland and his business partners like Howard "Howie" Baker and Andrew Greyvenstein, company documents show.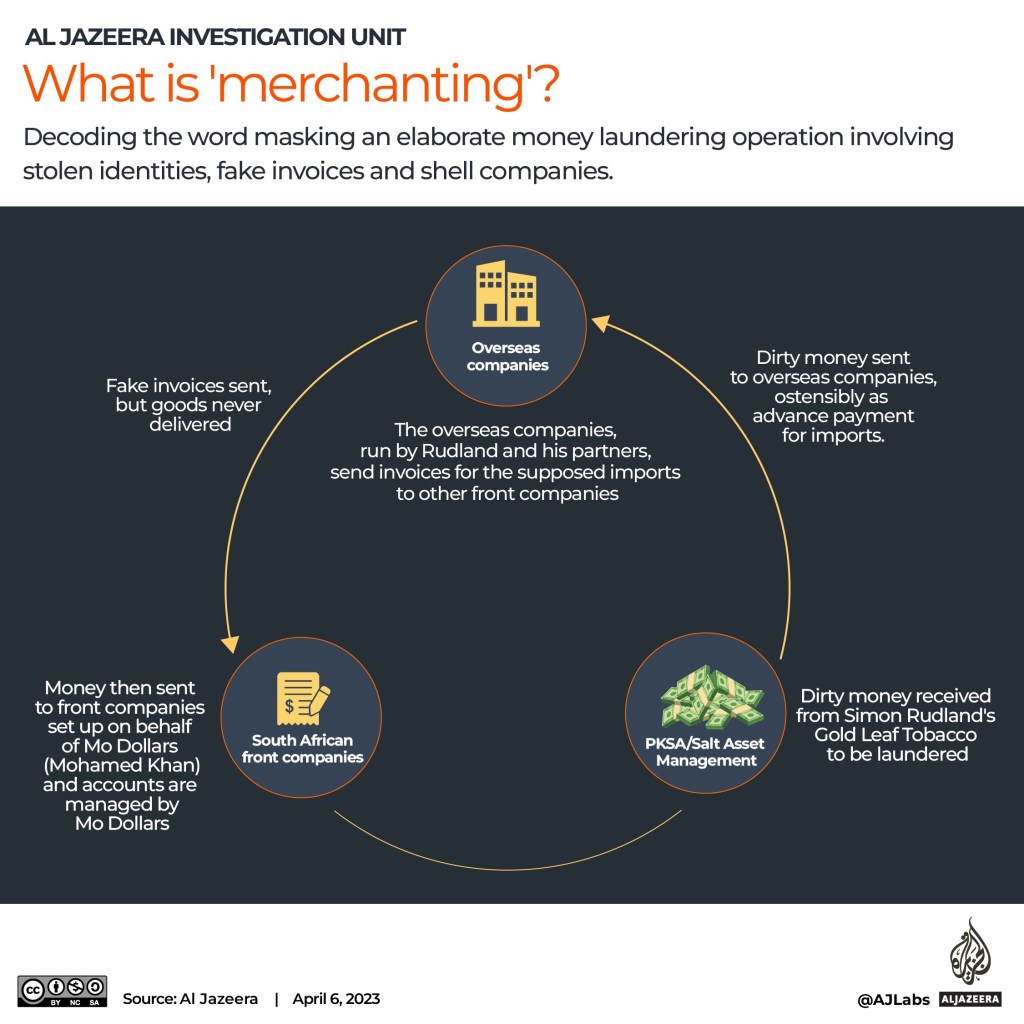 Duping the central bank
The money is described to South Africa's central bank – which monitors all forex transactions – as advance payments for goods to be imported.
"Every transaction abroad has to be reported to the reserve bank and you have to give them a reason for why you are moving money abroad," Holden explained. "The import advance payment, it's a very useful technique for money launderers because you can justify the movement of funds out of the country without anything coming in just yet."
"It allows you to move the money abroad immediately and then, you know, create a paper trail at your convenience at a later stage."
That paper trail is indeed created later: Dawood described how he would create fake invoices for companies that would never actually deliver any goods to South Africa.
"In an entire book of SALT Asset Management…I can say, 90 percent of the accounts that were on the book were hijacked," Dawood said.
In the case of Gold Leaf Tobacco, these fake invoices were initially primarily for tobacco imports that never came. Then, the operation ran into a challenge: They had more dirty money than they could launder using tobacco or other innocuous "imports" like clothing.
So Rudland and Mo Dollars turned to another product: gold.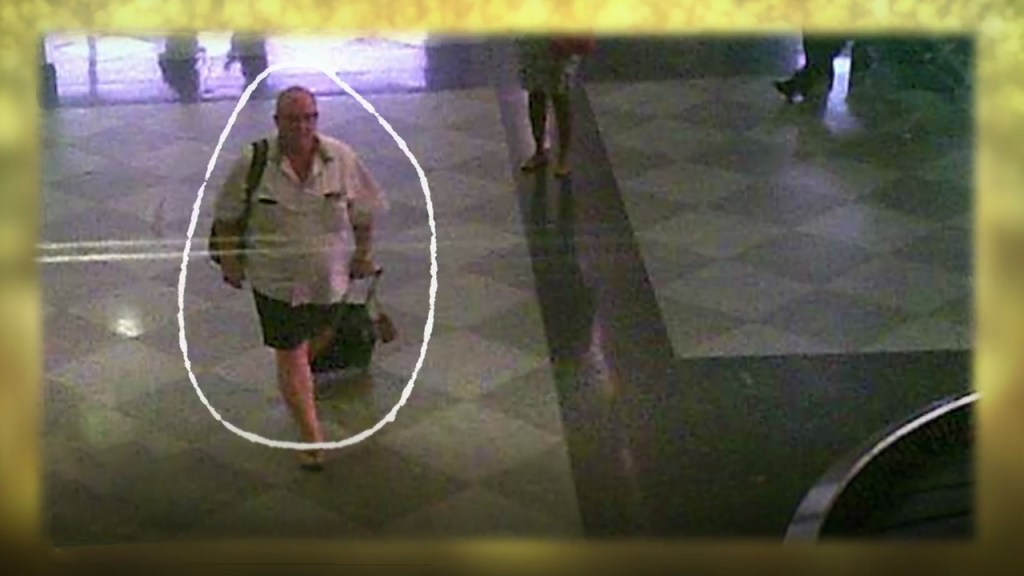 Gold smuggling
Under the gold scheme engineered by the duo, PKSA provides what are described as loans to Aulion, the Dubai-based front company. In 2018 alone, the amount transferred was $98m, according to wire documents.
Aulion, according to official paperwork drawn up by PKSA, buys Zimbabwean gold with that money. But it does not repay the loan. Instead, the gold is smuggled to Dubai by couriers working for Rudland.
In Dubai, the gold is brought to a refinery where it is melted down and all traces of its dodgy origins eliminated.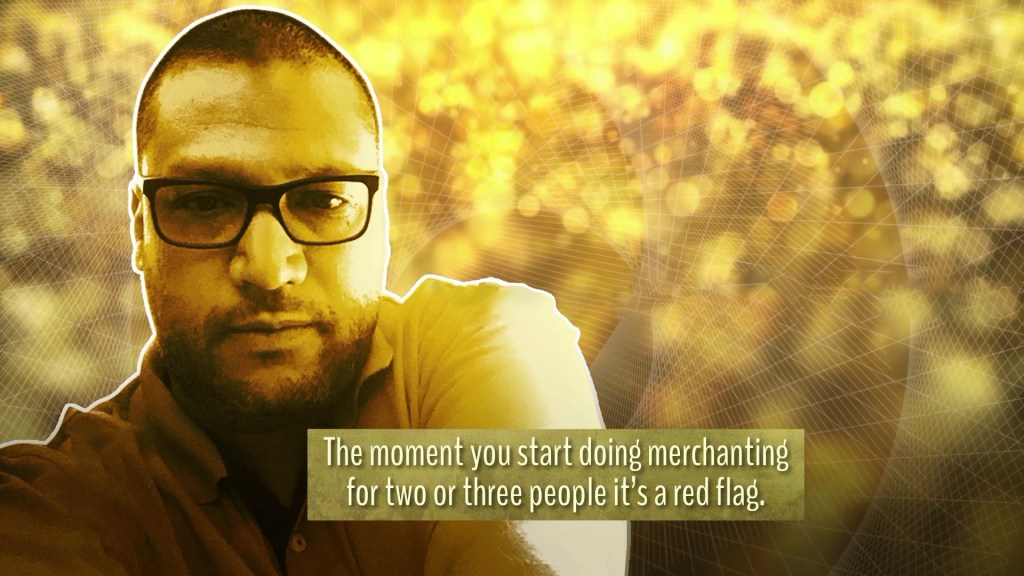 Bribing bankers
To ensure the "merchanting" does not raise any red flags in South Africa's financial system, Mo Dollars would bribe key officials at two of the country's biggest banks – Standard and ABSA – as well as at Sasfin, a bank that focuses on small businesses.
Ledgers accessed by Al Jazeera show thousands of dollars of cash were paid every month to these officials. Other documents and interviews reveal that dodgy, illicit transactions were only processed when bribed employees were in the office.
People in bank compliance departments were paid to ensure that PKSA and SALT Asset Management paperwork appeared clean and got the required approvals. And in the case of Sasfin, a member of the IT department received bribes to wipe fraudulent transactions from the bank's online system.
"Gold Leaf Tobacco had the capability within Sasfin to move massive amounts of money, not questioned, because you had the respective eyes in the bank, overlooking the entire process," Dawood told Al Jazeera.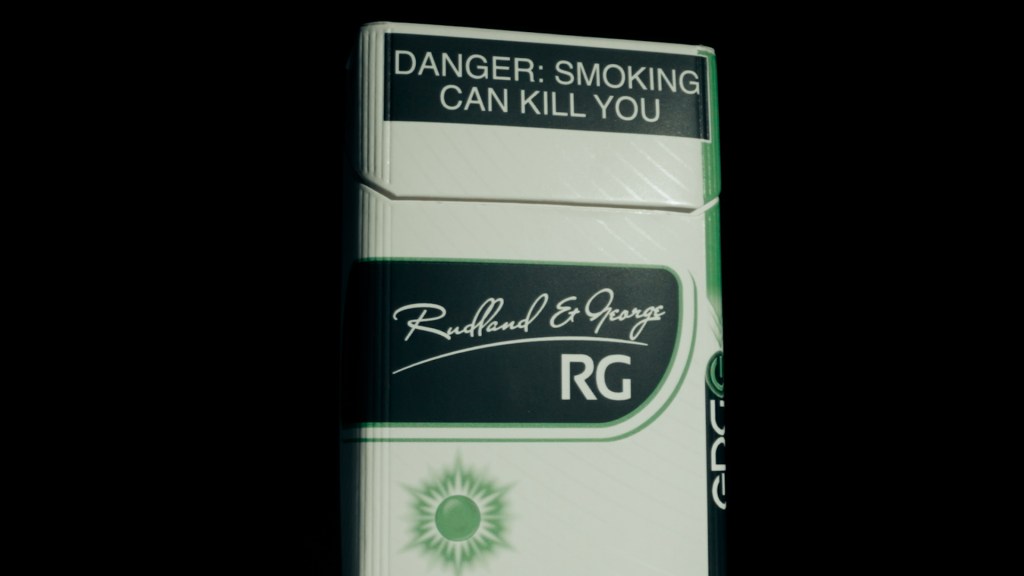 The victims of 'merchanting'
Moving millions of dollars of dubious cash across borders helps criminals cover traces of ill-gotten wealth.
But it is not just a victimless crime. "When you focus just on the money laundering, you tend to ignore what money is being laundered," Holden explained. "[Money launderers] are offering an incredibly vital service to some of the worst people on the planet: people trafficking, drug trafficking and sophisticated organised crime like state capture in South Africa."
State capture – which a government investigation confirmed under former South African President Jacob Zuma – refers to systematic political corruption designed to benefit a few private entities.
"State capture massively impacted the economy in South Africa," Holden said. "It has impoverished huge amounts of people, has threatened the real stability of the country in the long term."
"And that was all facilitated by stuff like this."
Simon Rudland told Al Jazeera that the allegations against him formed part of a smear campaign by an unidentified third party. He denied any involvement in the sale of illicit cigarettes and in gold or other smuggling. He also denied any knowledge of Aulion and told Al Jazeera that money had not been passed to the Dubai firm from Gold Leaf.
He accepted that he had had dealings with Mohamed Khan, who he agreed "appeared" to be a money launderer. He acknowledged that Gold Leaf and another of his companies had authorised Khan's SALT Asset Management to act as their agent but denied that any form of money laundering had been undertaken for him or any of his businesses.
Rudland said that payments made to Vantage Leaf, Liberty Gold and Velmont Valley had nothing to do with him or his companies.
Gold Leaf Tobacco denied any involvement, past or present, in money laundering, illegal gold trade and related matters. No "untaxed" or "illegal" cigarettes could be "attributed" to Gold Leaf, it said. Gold Leaf's limited transactions with Mohamed Khan and SALT Asset Management had always been lawful and proper, it said. Gold Leaf said it had never made any payment to Aulion.
Andries Greyvensteyn confirmed that he was under investigation by the South African Revenue Service, together with Rudland and Howie Baker. He said his dealings with Rudland and with Mohamed Khan (who he accepted was a money launderer) had been very limited and he denied knowingly participating in any crimes or illegal activities. Baker did not respond to a request for comments on the investigation.
Mohamed Khan told Al Jazeera that all allegations against him were false and based on speculation, conjecture and manufactured and doctored evidence. He confirmed that he was the owner of the PKSA Group and of SALT Asset Management and that Gold Leaf were clients of SALT but he denied involvement in money laundering or other criminal activity. He denied bribing anyone who worked in the South African banking sector.
Liberty Gold denied all knowledge of the matters and individuals featured in our investigation, while Vantage Leaf denied any known involvement in money laundering or false invoicing.
Sasfin Bank told Al Jazeera it was taking vigorous action against suspended and former employees and clients of its foreign exchange unit and said that it no longer had a relationship with any of the businesses named in this article.
ABSA said it had passed Al Jazeera's findings to its Forensic Investigative Unit, while Standard Bank said it has a zero-tolerance stance relating to fraud and criminality and would report and assist in any legal investigation